Wilson Tri-Band Yagi 700Mhz - 2500Mhz (Verizon/Sprint/Alltel/AT&T) - 304411
Before I was getting speeds that were ok but not the best it could be. My signal was only 1-2 bars and about 92dbm.
Now I am at 4-5 bars and 72-80dbm. It took a little work to aim the antenna but well worth the effort.
PLUS
the people at 3gstore was very helpful in me making this all come together.
ALso when installing this antenna, don't use a cheap coax cable. I used LMR400 cable. I tried the Belden 9913 and there was a noticeable loss in that cable. Also keep you cable runs as short as you can to prevent cable loss.
»
3gstore.com/product/2792_yagi-tr ··· 411.html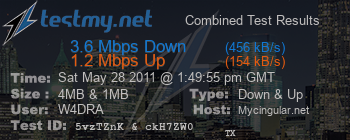 --
® D A V E ®
AT&T Broadband Mobile.