Hello All,
The Survey report is complete and here are the results. Thanks to everyone that participated, and hopefully something good comes out of this.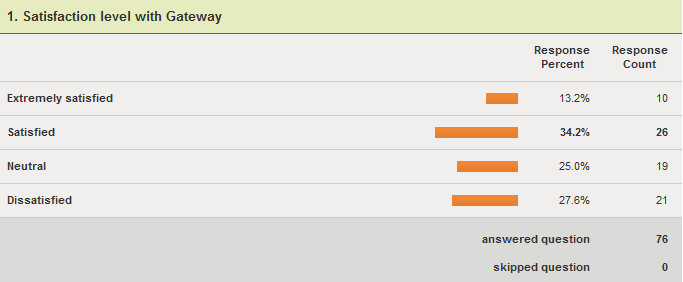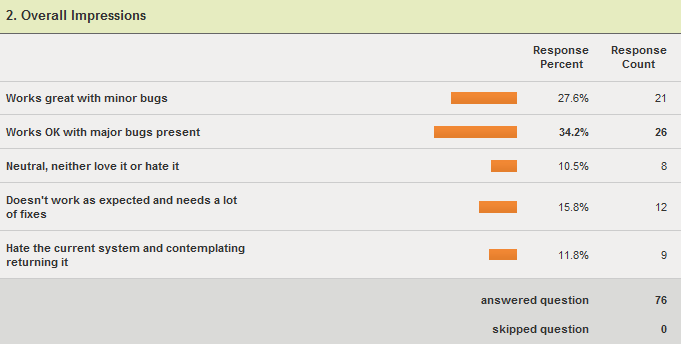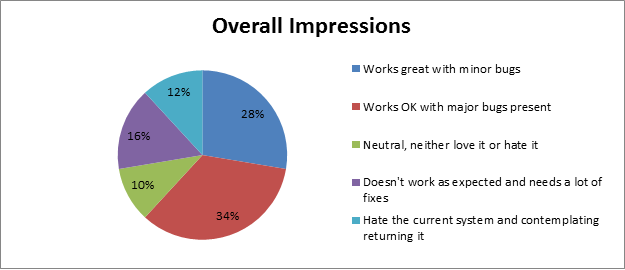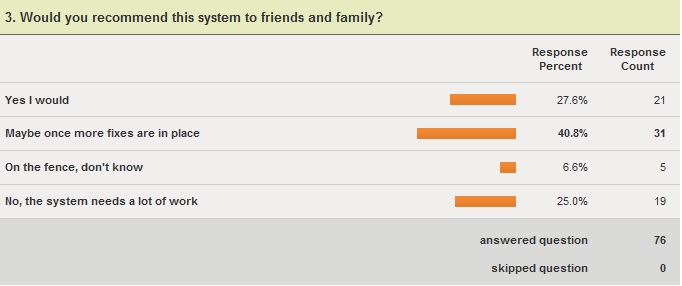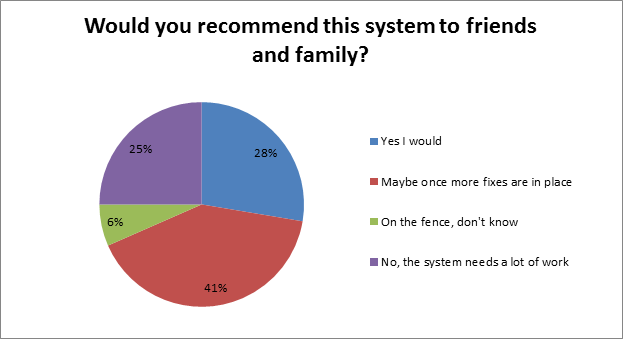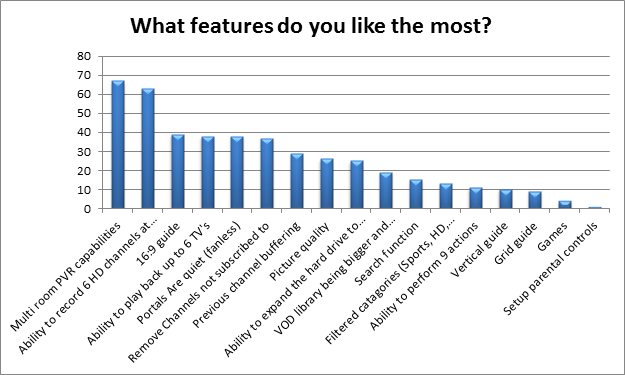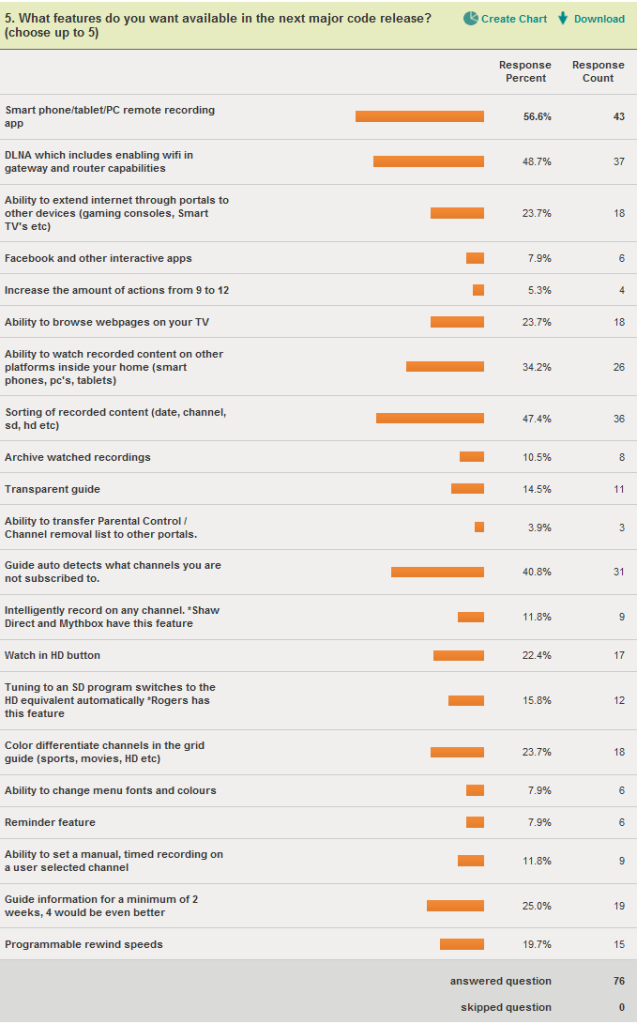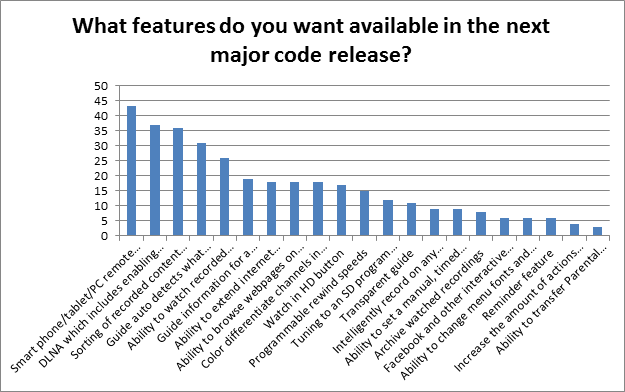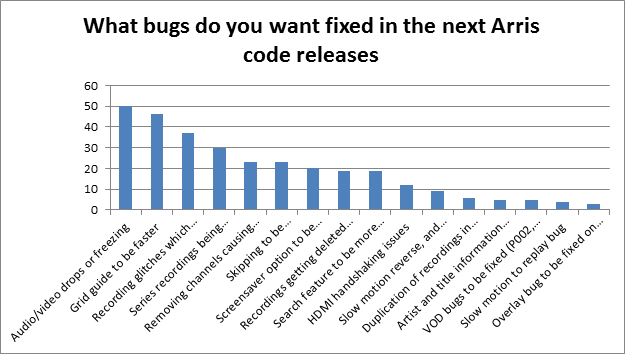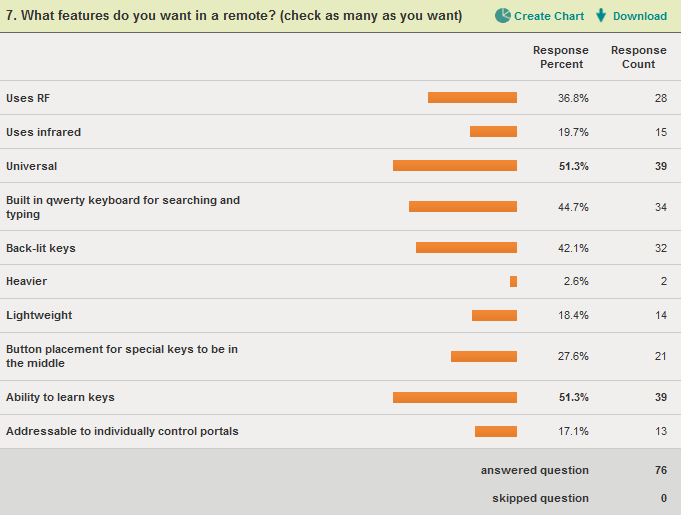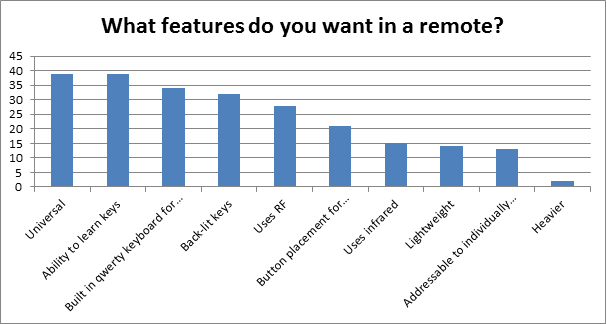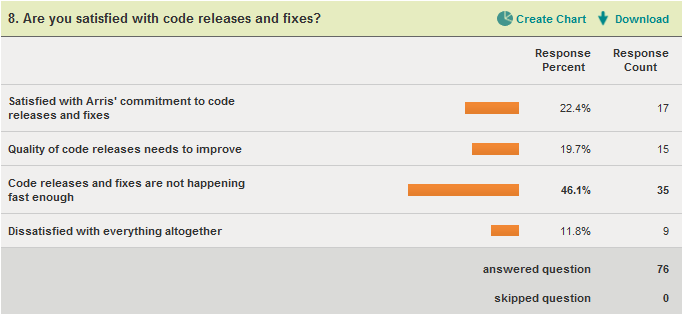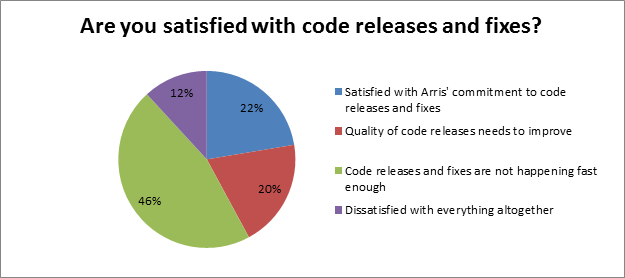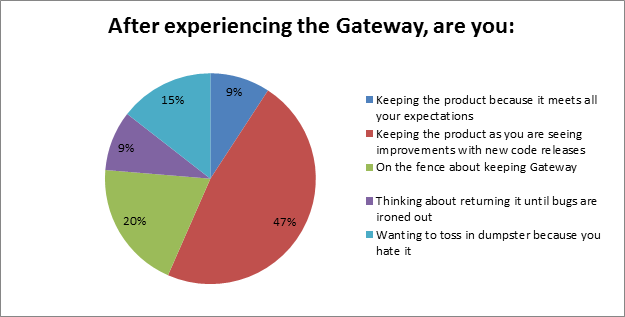 Employees become apathetic to our concerns, constant freezing or blurring, paying a fortune for something that is absolute crap, the idea is good but the software/hardware is terribly flawed. want more HD channels and the ability to rid myself of those channels we don't want (either on guide or in my "package") I want to throw this in the big drunk mr. shaw's face and get my all of my money back.
10/12/2011 5:26 AM
Major gripe is too many bugs and firmware fixes neeeded. Feel this is the same with a lot of companies recently; depending on firmware fixes and releasing products that are barely ready for production and using customers as beta testers. I'm glad I'm getting the services at a great price though; I wouldnt pay 170.00 plus for this. The remote control is brutally bad; poor button placement. Lucky i use a Harmony.
10/12/2011 2:54 AM
get it running correctly first then release it. has been out for 7 months and still major bugs get people trained the techs are not even train I was told by every person i talked too that this was the case. more and more but no shaw listens
8/12/2011 4:15 PM
Portals keeps losing comunication with Gateway - need to reboot gateway in order for portals to reconnect??
8/12/2011 10:24 AM
I am a longtime Shaw customer and am very surprised that this product was released as is. I cannot believe the number of bugs and technical problems with the system, but even more unbelievable is the poor user interface which lags behind my 6 year old series 2 TiVo. How can a brand new system with unmeasurably more powerful hardware not be used more effectively and be able to do some of the things a simpler box such as TiVo designed more than half a decade ago. Assuming that the bugs are fixed and many of the features described above are added, I will stick it out, but have been telling everyone I know to avoid this system like the plague. It is the most frustrating experience that I've had with Shaw and made me seriously consider switching all of my home services to Telus.
8/12/2011 8:42 AM
returned gateway junk long ago
8/12/2011 3:15 AM
1 - I'm 66 years old,have 20/20 vision (Corrected) with a 52" HD - 1080i screen, and I can't read/understand/make out... the channels logo's on the guide... They are to small and not very color friendly...!!! 2- The "to be recorded Icon", should be considerably more eye catching...!!! 3 - The guide should be larger and much preferred if it was scalable... Different strokes for different folks..!!! 4 - We should have the ability, to extend the period of time, the keys on the remote are lite... (I promise I won't complained, about battery life...!!!) 5 - Time on portals should be easier to read...!!!
7/12/2011 12:20 AM
Menus are confusing. Sometimes I have to press OK. Other times I have to press right. Some times I have to wait until a list populates. Sometimes pressing right changes to a new menu. Sometimes pressing right dives into a sub menu. Eg when trying to select a recorded episode I sometimes press right too fast and get taken out of the PVR menu. Going backwards out of menus is confusing. Sometimes the left button works. Bugs: - Sometimes when I turn my TV on there is no sound until I power cycle the Portal. - Sometimes during recording playback the screen goes black but when pressing a button to bring up the menu I can see a flicker of the show and can see that it is actually progressing through the episode. - I had one recorded episode that when played would hang and I would have to power cycle the Gateway and the Portal. Feature requests: - I want DLNA into the Gateway (to play files that live on my computer).
6/12/2011 4:03 PM
I would like the option to set up sports recordings like a series recording i.e. set recordings for all oilers games
5/12/2011 10:43 PM
- apparently Arris has no idea how to buffer content on the portal so that keystrokes on remote can be acted upon immediately instead of being transmitted to the gateway - the skip back amount should be programmable, or defaulted to 10 sec like the Expressvu boxen - the gateway has no file management functionality. once an external drive is connected to the gateway there's no way to control what shows are on what drive, so you have to delete everything before it's safe to upgrade/remove the secondary drive - management via a web browser would be appreciated, like the Expressvu PVRs - for all the (non-intuitive) menu tries to be, the PVR function is nothing more than a glorified 1980's VCR. ie go to this channel and record for this long. the ExpressVU PVRs could "find this show and record it whenever it occurs so long as it's new" - control over the main menu. I don't watch sports. why does it have to be on my menu.
5/12/2011 9:50 PM
How I pay this much money for something this bad is embarrassing on my part. How Shaw keeps telling me the product is superior is laughable. I wish I would have switched to TELUS.
5/12/2011 9:05 PM
Having the ability to select different Grid Guide views as seen on the Bell Sat. receivers. Would like to select 4 lines rather than 6 for larger fonts for visually impaired people.
5/12/2011 7:43 PM
Gateway is so slow/unresponsive its painful. Also navigating the menus is horribly un-intuitive
5/12/2011 7:26 PM
Very close to returning the unit if recordings keep being dropped and promised features are not activated soon.
5/12/2011 6:50 PM
Like previous products, Shaw seems to release products that are not yet ready for prime time (too little quality assurance testing - buggy and incomplete software) and that have been designed by people who seem never to have used them (very poorly designed to begin with).
5/12/2011 1:53 PM
Need to get the IR sensor option working for those that want to be able to hide their equipment.
5/12/2011 9:31 AM
I think overall it is a good system but the audio/video freezing and glitching needs to be fixed.
4/12/2011 9:56 PM
Keep updating a priority and keep us informed... use the message feature on the gateway so we know what's happening!
4/12/2011 8:53 PM
1. Ability to use the USB ports to watch avi's 2. A snappier interface.
4/12/2011 7:44 PM
Fix the bloody thing!!!! Delete the stupid games
4/12/2011 7:19 PM
More HD channels..
4/12/2011 6:56 PM
The guide needs to definitely be quicker - it is almost like you have slow internet browsing, you press a button and don't know if you actually did as it is soo slow to respond. The guide is nice looking but you don't always know what you are selecting as the difference in colour needs to stand out that you are selecting or hovering on a certain channel/program. When you change channels with the up and down button while watching and then go to guide, the guide does not follow you so it shows where you where before you changed channels, so again you always seem a bit lost in when searching and moving in the guide screen. Our portal has started turning off randomly. 3 times tonight, it simply shuts off while watching TV, no changing anything or using remotes...just sitting there and it actually shuts off! I thought they didn't have power buttons to actually turn off. It has great potential, just seems a bit buggy and slow at this time. On the fence if I would recommend it due to this. Thx.
4/12/2011 6:01 PM
remote is poorly laid out and is unnecessarily heavy. The remote is missing so key buttons like tv/video for tv input control, and an exit button for the portal. See the TELUS Optik remote for button layout, weight and features. System seems to be very sluggish. Overall picture quality is very good with minor video and audio pauses and interruptions that get irritating.
4/12/2011 5:33 PM
Not getting value for the price I paid.
4/12/2011 5:26 PM
One of the biggest changes I would like to see is to have the audio output volume decreased. Our main TV has 1 through 100 for volume settings, since getting the Gateway we normally listen at 15 and might crank it to 20. In comparison, when I hook up something else such as my laptop to watch a movie, the sound has to be between 40 and 50 for regular volume. Similarly, our bedroom TV has about 40 sound positions, and we now listen at 10. The reason this makes a difference... if I have to turn my TV all the way down to 15 on it's scale to get a normal volume, that then means that the difference between no sound and regular volume has only 15 different positions on it, so fine tuning the sound level becomes difficult. There is a reason my most expensive TV came with 100 positions; so that I could make minute adjustments. The Gateway has defeated that feature. Where this makes a big impact is at night when the wife is asleep and I'm lying beside her watching TV. In the quiet of the midnight hour, I can hear what is being said if I have the volume at 6, but it wakes up my wife. If I turn it down to 5 it doesn't bother my wife, but the large difference between 5 and 6 means I now cannot make out what is being said. I need to be able to get a volume between the two, which I could do before the Gateway. In general, though, I often would like a bigger range, as we seem to often wanting the magic volume level between too loud and some things are mumbled. The main audio feed really needs to be lowered in volume so that my own equipment can give me a greater range of control. Second suggestion: As the system is just a computer and all computers need an occasional reboot, and as a reboot often fixes issues such as video glitches; I think an automatic reboot in the middle of the night once a week would be beneficial. I would suggest that the system first look to see if there are any portals in use or any recordings about to start, and that the time of reboot be pre-programmed to be 3:00am but be adjustable within the options.
4/12/2011 12:24 AM
I regret upgrading, should have stayed with Motorola PVR, user interface was better, faster and more reliable. The only thing going for Arris is the ability to record 6 shows. This will be my last upgrade with Shaw.
4/12/2011 11:01 AM
Sound dropouts-pixelation-video dropouts-voice not synced-slow guide response-this show no longer available-cannot communicate with gateway-reboots-remote up and down keys stop functioning-guide disappears and goes blank. these are some of the issues i am having. Shaws response to my issues to date are to unplug the portal and gateway and reset. these issues have been happening since install and continue today.when asked whats wrong i always get from the CSR "everything looks good on my end" Nice Job Shaw!
4/12/2011 2:23 AM
Nice survey, thanks for putting it together.
3/12/2011 9:58 PM
Overall am happy with the product, but still needs work on bug fixes and features. This product has great potential and for that reason i am sticking with it. Each code release that comes i have seen improvements. I love the ability to record 6 HD channels at the same time, and the HD picture quality is amazing!!
3/12/2011 6:16 PM