cork1958
Cork
Premium
join:2000-02-26
reply to TheTechGuru
Re: [Speed Issues] SpeedBoost Outage?
Personally,
That site sucks, as do most flash based speed tests. That site seems to be running rather slow right now also, anyway.

This is slightly slow for me. I'm on the same plan as you. My upload is always lower due to QoS settings for my Vonage phone.

Try »www.testmy.net.






--
The Firefox alternative.
»www.mozilla.org/projects/seamonkey/

TheTechGuru
join:2004-03-25
TEXAS
kudos:2
Reviews:
·HughesNet Satell..

·WesTex Connect

---
1 edit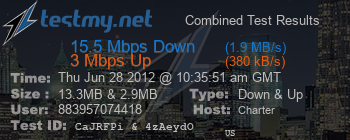 Showing about the same as speedtest.net.

What modem are you using? DS3 or DS2? If yours is DS3 I'm going to start wondering if Charter has killed SpeedBoost for DS2 users.

There is also »www.megapath.com/speedtestplus/ which seems to use a combo of Flash and JAVA.

Signals look ok.
Downstream Receive Power Level : 0.0 dBmV
Downstream SNR : 38.3 dB
Upstream transmit Power Level : 40.7 dBmV

--
CompTIA Network+ Certified