Dare I? LOL
I was looking for "ping" information after reading about Excede.
TestMy doesn't include it. Again, while experiencing uber fast browsing like the other night (about the same time of night), I get this test result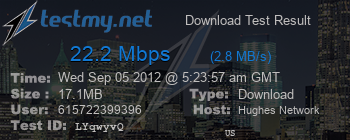 Went to HughesNet to test
Web Response:
Download Time 4.8 seconds
Download Time 2.5 seconds
Download Time 2.3 seconds
Download Time 2.3 seconds
Download Time 2.4 seconds
Download Speed Test:
down 3338 kbps up 192
down 3577 up 180
down 3498 up 191
So what exactly is ping (I kinda get the jest of it) and why is it so important that even if d/l speed numbers are good a bad ping is "bad"? Is it directly related to VOIP and gaming? If I don't do those type of things, does it still adversely affect my Internet experience? What is a good ping number for satellite users?