Had mine installed last week, loving it. Has there been any confirmation that the August frimware issue was ever resolved? I have not had any connection issues.
Speed test from UCLA
Testmy.net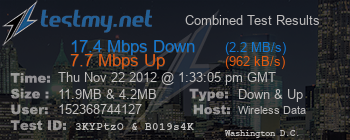 LTE Status
RSRP: -82
RSRQ: -18
SNR: 18 dB
LTE PHY Rate (Mbps)
Uplink: 18026
Downlink: 940
Cell Selection: 01B61703
Antenna Slection: 315
(Oops, looks like someone made a typo in the router for "Selection"
)