1) Different modem - I am using the modem provided by Start
2) Signal levels? I am sorry I am not too familiar with what this is.
3)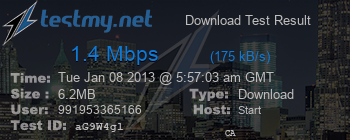 This is the speed I got righter after I reset the modem.
4) This has been happening the whole evening and night. Its happening now as I type this. If I reset the modem, the speeds will be ok for about 20 minutes and then it will drop.
I do not know about the node thing you mentioned, because I talked to someone on another forum and he mentioned he has had the the same problems with his connection. He lives in Brampton and is on DSL, while I live in Toronto and have cable.
Again, speeds/connection were fine with Rogers. Connection was great with Start for a few hours then the problems started happening.
I would also like to add that the "Online" light on the Start modem had been blue this whole, even when the connection was perfect. I do not know if this makes a difference.