reply to scottp99
Re: File Encryption AES-128 versus AES-256?
From Wikipedia:

"The key size used for an AES cipher specifies the number of repetitions of transformation rounds that convert the input, called the plaintext, into the final output, called the ciphertext. The number of cycles of repetition are as follows:

10 cycles of repetition for 128-bit keys.
12 cycles of repetition for 192-bit keys.
14 cycles of repetition for 256-bit keys."

A 128-bit key is considered computationally secure against a brute force attack from any technology currently in the public domain. On a practical note, no one will attack the cipher or the keys unless there is a known implementation weakness in an encryption program. If you use a mature, open source program like TrueCrypt, your data will be as safe as your password is strong.

Ian
Premium
join:2002-06-18
ON
kudos:3
---
3 recommendations
I don't think anybody here can properly evaluate your security needs remotely. If you're doing something banking-wise or project-wise that you think might attract the attention of a 3-letter US agency like the NSA, or perhaps a foreign power like Russia or China, perhaps budgeting a bit for a security professional would be a smart investment?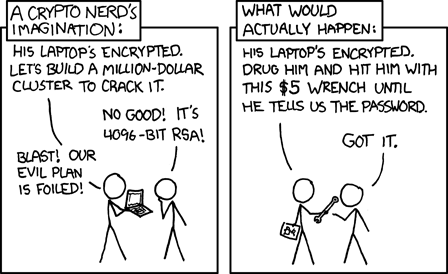 --
"Any claim that the root of a problem is simple should be treated the same as a claim that the root of a problem is Bigfoot. Simplicity and Bigfoot are found in the real world with about the same frequency." – David Wong