A Declaration of Internet Freedom
Groups Align to Protect Internet From Censorship, Stupidity
Numerous groups including the Electronic Frontier Foundation (EFF) and Free Press have today made a
Declaration of Internet Freedom
, taking a stand against any and all apparent attempts to throttle, filter or otherwise censor the Internet -- particularly without an open conversation among the Internet's most important stake holders (that would be you). This is just the beginning of a process aimed at starting an open and transparent discussion on how advocates, users, consumers and other interested organizations can work together to limit censorship, improve availability of low-cost connectivity, protect innovation, and protect user privacy.
Users interested in discussing -- and participating in -- the push can do so at
Reddit
,
Techdirt
and over at
Cheezeburger
. If you're interested in signing the declaration, it can be found
here
.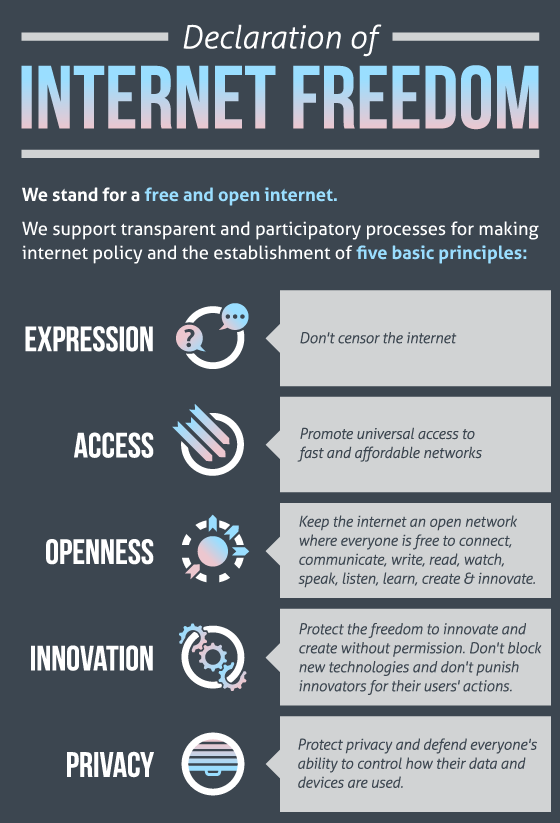 From the Declaration:
quote:

---

We believe that a free and open Internet can bring about a better world. To keep the Internet free and open, we call on communities, industries and countries to recognize these principles. We believe that they will help to bring about more creativity, more innovation and more open societies.

We are joining an international movement to defend our freedoms because we believe that they are worth fighting for.

Let's discuss these principles — agree or disagree with them, debate them, translate them, make them your own and broaden the discussion with your community — as only the Internet can make possible.

Join us in keeping the Internet free and open.

---
FFH

Premium

join:2002-03-03

Tavistock NJ

kudos:5

---

1 recommendation

Translation of some EFF terms

Promote Universal Access: that means government subsidized broadband - another welfare benefit.

Don't punish innovators for their users actions: This means it is alright for web sites to provide a means for users to steal copyrighted materials while making tons of money off piracy(aka as "The Pirate Bay people are wonderful" clause).
--
»www.mittromney.com/s/repeal-and-···bamacare
»www.mittromney.com/issues/health-care

Re: Translation of some EFF terms

I can always count on you to make me laugh with your silly comments. Thank you for being our resident Republican shill.

axus

join:2001-06-18

Washington, DC

Reviews:
·Comcast


---

1 recommendation

Re: Translation of some EFF terms

That's kind of rude. If you're going to argue with someone, argue with their facts and not their source.

I understand it is frustrating arguing with propaganda or a commercial posting, because they are not here to learn anything or consider other points of view. The best thing you can do is ignore them and have a discussion with someone else who is "real".

Re: Translation of some EFF terms

Rude? How is the truth rude?

roc5955

Premium

join:2005-11-26

Rosendale, NY

@sandman
+1 googolplex

Cabal

Premium

join:2007-01-21

Logical fallacy: Ad Hominem.

That depends on how you look at it. I'll bet your phone has a built-in MP3 player, or maybe you have a standalone player. Well, when the Diamond Rio came out in the late 1990s, the RIAA actually sued to have it pulled off the market because they claimed it violated the Audio Home Recording Act. Basically, they didn't feel that you should be able to convert your CD's into MP3's and store them on a device such as this.

In the view of some, if a piece of hardware or a service can be used to commit copyright infringement, then it shouldn't be allowed on the market. That isn't the legal standard, but that seems to be the attitude that is being taken by the studios and even some in government. And they will take the concept of what constitutes copyright infringements to ridiculous levels, even going so far as to claim that making backup copies of DVD's is somehow illegal. They'll tell you that you don't actually own that disc but that you simply purchased a license to watch the film. OK, so, should the disc become damaged, then shouldn't they replace it? Oh no, you bought the disc, so you're responsible for that, but you can't take steps to prevent it, such as making a copy to use while keeping the original safely locked up.

Oh, and let's not forget that they've gamed the system so that works never fall out of copyright anymore as they're supposed to.

So, essentially, the whole system is rigged. The copyright owners think that they should decide what constitutes infringement, and then they say that anything that could potentially be used for infringement, despite any legitimate uses, should never see the light of day. Then, even if you hold out a ray of hope that these works will someday enter the public domain, your hopes will be dashed when these companies once again bribe Congress to pass yet another copyright extension.

So, no, I have no problem with the position the EFF is taking.

iknow

Premium

join:2012-03-25

said by FFH:

Promote Universal Access: that means government subsidized broadband - another welfare benefit.

Don't punish innovators for their users actions: This means it is alright for web sites to provide a means for users to steal copyrighted materials while making tons of money off piracy(aka as "The Pirate Bay people are wonderful" clause).


you do realize it is OBAMA that is for "any and all apparent attempts to throttle, filter or otherwise censor the Internet -- particularly without an open conversation among the Internet's most important stake holders (that would be you)." notice this started on HIS presidency, and just keeps signing those bills.. political contributors get payed back with laws.

DataRiker

Premium

join:2002-05-19

00000

---

1 edit

said by FFH:

Promote Universal Access: that means government subsidized broadband - another welfare benefit.




Something tells me you don't mind the corporate welfare of our defense industry though, which happens to make all other subsidies look trivial.

NormanSI gave her time to steal my mind away

Premium,MVM

join:2001-02-14

San Jose, CA

kudos:11

Reviews:
·SONIC.NET


said by FFH:

Don't punish innovators for their users actions: This means it is alright for web sites to provide a means for users to steal copyrighted materials while making tons of money off piracy(aka as "The Pirate Bay people are wonderful" clause).


I once obtained a "crack" code from a web site to unlock a Region 1 DVD player to make it a Region 0 player ("All Region"). I wonder if that makes me some kind of criminal?
--
Norman
~Oh Lord, why have you come
~To Konnyu, with the Lion and the Drum

DataRiker

Premium

join:2002-05-19

00000

Re: Translation of some EFF terms

Everyone is a criminal in this place. Its getting ridiculous.

Sukunai

Premium

join:2008-05-07

kudos:1

Reviews:
·ELECTRONICBOX
·TekSavvy DSL


Ban dinosaurs that won't adapt

In the end, I'd rather people unite and just tell Hollywood and anyone that wants to stand with them whining about copyrite to either advance into this century or not, but to stop expecting anyone to care about them if they insist on not joining the rest of society in this century.

No I am not in favour of theft (use any other term that feels better on your ears if you insist), but I don't expect humans to stop stealing......ever. There's always going to be theft as long as we run our world on a monetary based system where you have to pay for what you want. Yes Star Trek would be nice, but, it isn't the world we live in.

I want the internet to evolve to get better to get more and more useful and I don't care if the dinosaurs wish to complain.

Ban Hollywood, not an internet with no freedom.

El QuintronResident Mouth Breather

Premium

join:2008-04-28

Etobicoke, ON

kudos:4

Sounds pretty fair to me.

I think most of the points laid out are pretty standard fare. A concrete plan on how to achieve these objectives would probably be helpful as well.
--
Everything in moderation... Including Moderation --Oscar Wilde

iknow

Premium

join:2012-03-25

Re: Sounds pretty fair to me.

said by El Quintron:

I think most of the points laid out are pretty standard fare. A concrete plan on how to achieve these objectives would probably be helpful as well.


the presidents cabinet is filled with former RIAA and MPAA lawyers, and those companies have gotten too big, so if no one bought music, movies and software, and instead loaned it from a library until these companies went out of business, then things would go back to normal. right now it's like they run the government.

El QuintronResident Mouth Breather

Premium

join:2008-04-28

Etobicoke, ON

kudos:4

Reviews:
·TekSavvy Cable
·TekSavvy DSL
·WIND Mobile


Re: Sounds pretty fair to me.

said by iknow:

the presidents cabinet is filled with former RIAA and MPAA lawyers, and those companies have gotten too big, so if no one bought music, movies and software, and instead loaned it from a library until these companies went out of business, then things would go back to normal. right now it's like they run the government.


You're right about that... but the political will to get *all* corporations out of lobbying isn't there.
--
Everything in moderation... Including Moderation --Oscar Wilde